Shopping Cart
Your Cart is Empty
There was an error with PayPal
Click here to try again
Thank you for your business!
You should be receiving an order confirmation from Paypal shortly.
Exit Shopping Cart
Recently our board members and volunteers were saddened to learn that a placement we made turned out to be a poor one. We discovered that one of our dogs was hit and killed on the highway after being allowed to run loose on more than one occasion. We all grieved for that sweet dog, whose second chance was wasted.
We try so hard to make sure that our rescues are placed in homes where they are not only loved, but cared for. There is a difference. One of the reasons we ask so many questions on our application form is to try to discern which homes can do both. Sometimes people think our questions are too personal. Is it our business who lives with you in your home, for instance? Yes, we think so. If someone staying with you has convictions for domestic violence or behavior which might negatively impact a placement, we want to know about that.
We ask for a letter from your landlord if you rent, because some people tell us they own their homes when they don't. They badly want a pet, they know their landlord bans them, and they hope to sneak one in under the radar. When the landlord finds out, as they inevitably do, what happens to the animal? It is rarely the owner who ends up homeless.
Lots of people without fenced yards do a great job managing their pets. You don't have to have a fenced yard to adopt from us. But we will ask you what your plan is for keeping your pet safe. In the case of our recent loss, we were told the dog would never be off leash outdoors unless it was in an area under the stairs which would be fenced for it. It sounded like a good plan. It would have been, had it been followed.
Accidents happen. We're sure the owners are sad about the loss of their dog. We wish more proactive steps had been taken to keep this from happening, because this loss does not just impact the owner. It impacted the driver who hit the dog and the other driver who witnessed it. They were frantic as they drove to the veterinarian and devastated when the dog died in the truck on the way. The staff of the clinic, who knew and cared for the dog, were saddened. The board member who fostered the dog and delivered it to the new owners is deeply saddened.
Second chances are precious things. We wish this one had been permanent.
I've been working with the Humane Society for about a year and although I do provide valuable services on the tech and logistics side of things, I rarely get to meet our rescues.   About a month ago I had my first opportunity to help rescue a dog.   A small black dog had been spotted in the Jackson/Monroe area for several days.  Local residents had called Animal Control and the Humane Society and there were posts on Facebook as well.  He seemed friendly but extremely skittish and no one was able to get near him.  It was clear this dog did not have a home.
A local teen who often volunteers with the Humane Society called us on a Friday morning to let us know that she had the dog in her sites.  For once, I was able to leave my job and I joined Gretchen and Tori in the rescue.  We parked next to the construction area, divided our treats and leashes and started wandering around the area.  The little black dog soon made an appearance and showed great interest in us – but regardless of how much we ignored him or teased him with treats, he simply would not approach any closer than twenty feet and he often escaped on well established trails under homes and through thickets.  After an hour we decided our approach wouldn't work and we left to regroup.  We got permission for a local resident to setup a humane trap and we contacted Animal Control for further assistance.  
In the mean time, one of our other board members went to the area with one of her own dogs to see if she could lure the little dog to safety.  And it worked!   The little lost dog was so desperate for attention he risked everything to approach one of her sweet dogs.  He surrendered happily as soon as the leash was around his neck.  He was immediately relieved to be off the street.  
I got the word that afternoon that he'd been successfully rescued and later I got a photo of him after a bath.  He had been covered in fleas and his coat had been matted and tangled – but after the bath he no longer looked like a stray, he suddenly looked like someone's pet!  Because I had helped look for this dog I realized I felt a different sense of ownership and responsibility.   When someone called me a few weeks later and asked to meet Waldo I was thrilled.  (I got to call his foster home and ask, "Where's Waldo?")  When he was placed successfully in a forever home just a few days later I was completely elated.  
KHS has rescued and placed nearly 100 animals already this year.  Why was Waldo different?  You can understand anything logically but until you've been through it emotionally it's impossible to truly appreciate it.   My thought is this:  This works.  We truly are saving animals one at a time and there is no magic involved - it is boots to the ground, hard work, dedication and love - and it works!   Nothing has warmed my heart so much as seeing that little dog in the arms of his new family.
A friend told me recently that she doesn't want to know about the sad things that happen in Ketchikan regarding animal abuse and neglect. She said I shouldn't tell her because she can't stand knowing about it.
I don't know exactly what to say about that. On the one hand, it is really hard for me to know those things, too. Sometimes what I know keeps me awake at night. Not knowing would be a heck of a lot more comfortable, that's for sure. On the other hand, not knowing also means I don't have to act to try to change things. If I choose not to know there's a problem, I don't ever have to try to solve it or help make it better. How does that change the sad stories into happy ones?
There are lots of happy stories our volunteers could tell you. Waldo is dry, warm, and fed now. He was being eaten alive by fleas; when we put him in the tub, the water running off him was bloody. He wouldn't have survived much longer running the Ketchikan streets. He'd have been hit by a car, attacked by a larger dog, tortured by unsupervised children, or eaten something toxic when hunger drove him to raid a garbage can. But as I type this, he's romping through the grass in the back yard, having had a great breakfast; there isn't a flea on him,  he's "going to the vet to get tutored," as the Far Side cartoon put it, and someone is soon going to be cuddling and loving him and bragging about their great new dog.
Almost fifty cats and kittens have been placed in good and loving homes since January. Their new families are so proud of them; they send us pictures, they tell us stories, and every one of those happy stories helps take away a little of the hurt we feel when we know of something sad. The foster family who cares for the majority of our kittens has endless patience.  Without their willingness to know the sad stories, to take in the hurt and damaged ones, and to rehabilitate and rehome, can you imagine how much more sadness there would be out there?
Happy endings are our goal, but we sure could use some help. We need good foster homes. We need people to volunteer to help with our fundraiser by helping set up, or work in the kitchen, or bake, or just attend and bid on things. We'll have adoption and foster applications available at the cocktail party and auction, which is Saturday, September 21st, from 5:30 p.m. until 9:30 p.m. up at the Ted Ferry Civic Center. Come hear some happy stories and help us create new ones. Thank you!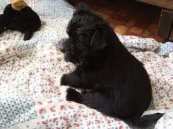 Every animal we get at Ketchikan Humane Society is special.  Occasionally, we get an animal that touches our hearts on a deeper level.
Such an animal was surrendered to us last Tuesday.  In his short life, no one noticed this small puppy had a very serious birth defect.  He was born without an anal opening.  He went 17 days without medical attention after his "people" realized he was not pooping.  All KHS could do was try to correct his birth defect and ease his pain once he was ours.   Sadly, his little body had been stressed to the limits and he didn't survive.
His death hit everyone who had tried to help him at KHS very hard.  Some of us still think of him and cry days later.  He rests in a peaceful place and his memory  inspires us to continue working hard to help animals in need through education and intervention in Southern Southeast Alaska.
We got the sweetest little Chihuahua into rescue this week. She is about eight years old. She is a special needs girl. At some point in her life she had some sort of neurological damage, which makes her walk like she's a scuba diver flapping up onto the beach. She sort of "pats" her feet out in order to maintain her balance. Despite walking like she's had one too many Margaritas, she's game to try anything, and loves being outside in the grass. She charmed the socks off the staff at the veterinary clinic when she had her checkup. She's house trained,  she eats well, and she loves her new food, although it must be admitted that she has discovered that she does not care for peas. She can, in fact, spit a pea about thirty feet. This little peanut needs a home without slippery floors and must be carried up and down stairs. She will tolerate other dogs, but believes in her heart that she was born to be the center of the universe, and would love to be someone's personal sidekick and bodyguard. Her foster family already has a number of sidekicks and bodyguards, so they are looking for just the right home for her.

Speaking of finding homes, did you know that for the price of a large specialty coffee drink, you can buy your pet an engraved ID tag locally? No on-line ordering, no waiting. Groomingdales Pet Resort does them right on site in just a couple of minutes. The Ketchikan Humane Society has started using these tags (generously donated) to identify our rescues. Nobody ever expects to lose a pet, but it happens every day. Just having one of these on a collar can have a lost pet home in minutes instead of hours or days. There are several shapes, sizes, and colors from which to choose. You can have more than one phone number put on them. Both sides are engrave-able. Additionally, think about micro chipping your pet. Any vet clinic and most shelters across the country will have a scanner which reads these chips, so even if you're far from home, someone who takes your pet to one of those places can have it back to you quickly. It's worth the peace of mind knowing that your pet will be one of the lucky ones who finds its way home
/